Nevada's Premier Provider Of
Minimally Invasive Surgical Solutions
Colitis & Crohn's Disease Treatment in Reno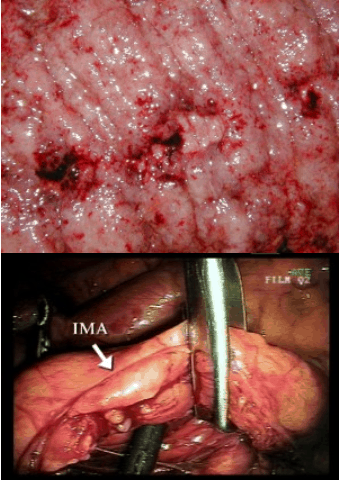 Crohn's and Colitis are conditions in which inflammation occurs in the gastrointestinal system. While in most cases the disease is controlled with medications, sometimes surgery is required. In these cases, it is recommended to seek out a Board Certified Colon and Rectal Surgeon, such as Dr. Sasse. His Fellowship training at the Lahey Clinic in Massachussetts centered on Crohn's, Colitis, and colorectal cancer, with an emphasis on minimally invasive surgical solutions.
In Ulcerative Colitis, the colon and rectum suffer from inflammation that begins in the distal rectum and progresses proximally within the colon. When medications can no longer control the condition, or when a person desires to discontinue medications and eliminate the risk of cancer, a proctoclectomy and ileo-anal J pouch may be performed. In Dr. Sasse's hands, this is a minimally invasive procedure, leaving the least scars. To the right is an intraoperative image of the ileocolic artery vessel being isolated with a laparoscopic technique.
In Crohn's disease, the small or large intestine may be affected, and common procedures include a laparoscopic ileocolic resection, stricturoplasty, and partial or total colectomy. Each case and each person has an individual condition requiring an individualized approach. Above is an image of the intestinal lining in a patient with Crohn's disease, showing active inflammation and deep ulcerations of the intestinal wall.
Usually, a Board Certified Colon and Rectal Surgeon can minimize the chances of having a colostomy or ileostomy. In fact, it is one of the important missions of a colorectal surgeon to avoid permanent ostomies whenever possible. If an ostomy is required, then creating it with a laparoscopic technique saves scarring, and reduces pain and recovery time. In addition, the optimal construction and characteristics of the ostomy make a huge difference, and a well-constructed ostomy can be very easy to live with, while a poorly constructed ostomy may be very frustrating to live with.