Obesity causes pain. A disproportionate number of people with obesity take opioids, and a disproportionate number of obese individuals undergo failed spine surgery. For some, it is a cycle of pain, opioids, depression, surgery, and worsened pain. Researchers asked if metabolic surgery resulted in a significant reduction in chronic pain. Not surprisingly, it did. Here's why weight loss may be the most effective therapy for chronic pain.
The Evidence
Published in The Spine Journal, Khoueir and co-authors published an analysis of patients with chronic back pain and compared the pain scores a year after metabolic surgery. In our practice, the 45-minute procedure involves four Bandaids and is among the safest and least invasive procedures done in any facility. The results were a 44% reduction in pain that was sustained at the 12-month time interval, based on the visual analog scale pain assessment score.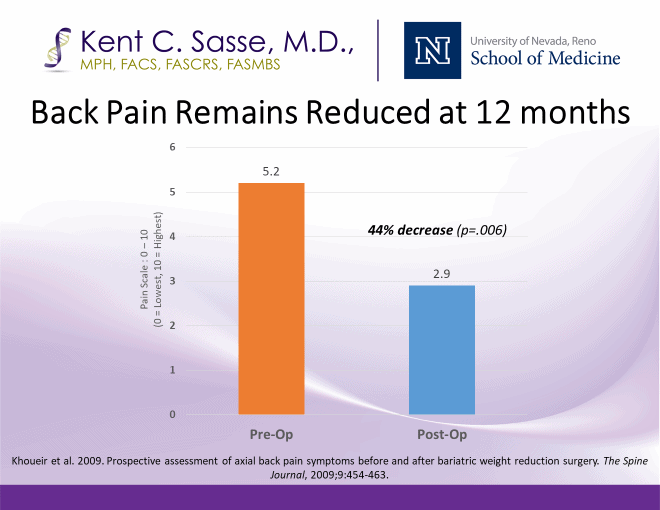 Our group routinely works with patients to wean off chronic narcotic medication as chronic pain diminishes. We work frequently with pain management specialists to create a coordinated after metabolic surgery to minimize medications and build in greater physical activity.
Meet Dee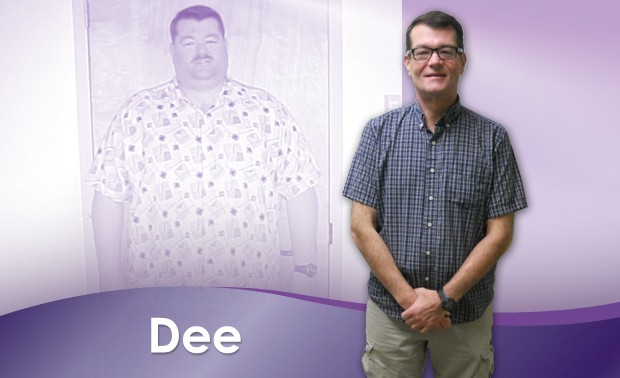 Like many individuals with a high BMI, Dee experienced chronic back pain that resolved after his metabolic surgery over 15 years ago. He remains active and physically fit. In a cross-sectional prevalence study of over 3,600 Americans, Hitt published the findings of strong correlation between chronic pain and elevated BMI. Those with a BMI over 40 were more than 2.3 times as likely to report pain than individuals with a BMI under 30.
Metabolic surgery resets the metabolism and enables long-term weight loss. A recent ten-year study of the laparoscopic sleeve procedure showed durable weight loss for most people beyond ten years, with most patients experiencing a reversal of diabetes, renal insufficiency, hypertension, sleep apnea and liver dysfunction.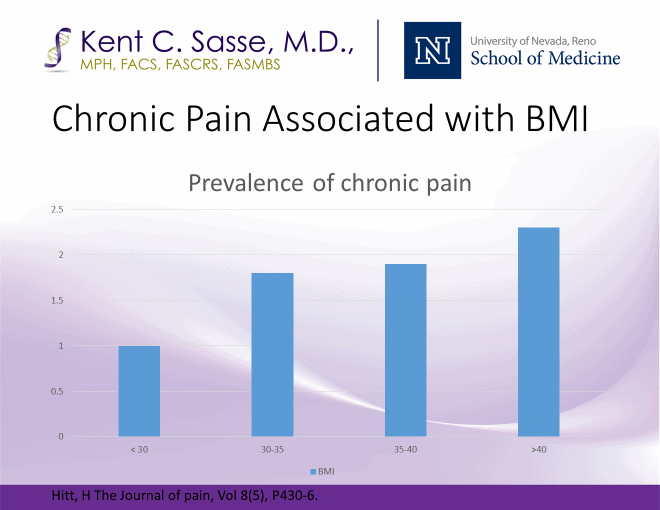 A Safe, Proven Solution to Chronic Pain
Today, metabolic surgery consists of a 45-minute laparoscopy with risks on par with gallbladder procedures and lower than most knee, hip, C section and ventral hernia repairs. Yet patients and practitioners continue to underestimate the risks of diabetes and its microvascular complications while overestimating the risks of surgical treatment as recommended by the American Diabetes Association: metabolic surgery. When surgery is recommended by the provider for a patient with type 2 diabetes and elevated BMI, their all-cause mortality risk drops dramatically.
We invite you to learn more about metabolic surgery. Contact us today to schedule a telemedicine appointment with Dr. Sasse to learn if you're a candidate.
References
Khoueir, P., Black, M.H., Crookes, P.F., Kaufman, H.S., Katkhouda, N. and Wang, M.Y., 2009. Prospective assessment of axial back pain symptoms before and after bariatric weight reduction surgery. The Spine Journal, 9(6), pp.454-463.
Hitt, H.C., McMillen, R.C., Thornton-Neaves, T., Koch, K. and Cosby, A.G., 2007. Comorbidity of obesity and pain in a general population: results from the Southern Pain Prevalence Study. The Journal of Pain, 8(5), pp.430-436.