It turns out that if you are under a non-surgical, medical management program for obesity, you are more than 7 times as likely to develop type 2 diabetes in the coming 7 years than if you were to undergo metabolic surgery. Similar rates of new-onset hypertension and hyperlipidemia occur, as reported in a recent paper in the Journal of the American Medical Association by Norwegian investigators at a large medical system.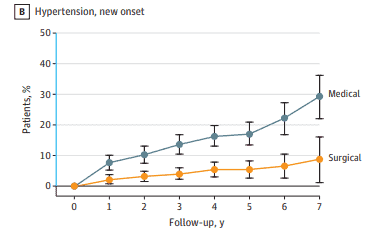 In the past 40 years, studies have made headlines with papers demonstrating that metabolic surgery cures type 2 diabetes. Which is true. Somewhere between 50 and 80% of individuals who are already battling type 2 diabetes with shots and pills experience a complete remission of the diabetes which lasts from 2 to 20+ years and results in dramatically less heart attack, stroke, microvascular complications and death when compared to non-surgical management.
But what may be more profound and impactful in preventing end-organ damage including amputations, retinopathy, and renal failure is the effect of metabolic surgery at preventing new cases of type 2 diabetes.
In the 2018 paper published in the Journal of the American Medical Association, Jakobsen and co-authors report the results of their study comparing metabolic surgery to intensive medical management of obesity in 1,888 patients. Among the key findings was the lowering of hypertension and diabetes among the subjects who already had these diagnoses, findings that have been confirmed in hundreds of other studies. But the most striking finding of the Jakobsen paper was that new cases of type 2 diabetes were over 7 times more likely to occur in the 7 years that followed when under non-surgical management when compared to metabolic surgery. Similar increased risks of new-onset hypertension and hyperlipidemia were reported for non-surgical management.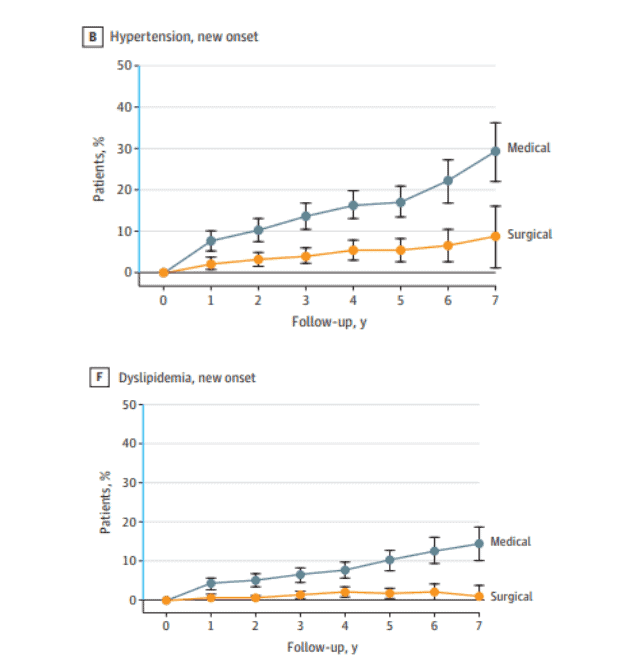 Today's metabolic surgery consists of a 45-minute procedure with 4 Band-aids that is significantly safer than non-surgical management. It is recommended by The American Diabetes Association and The American Heart Association.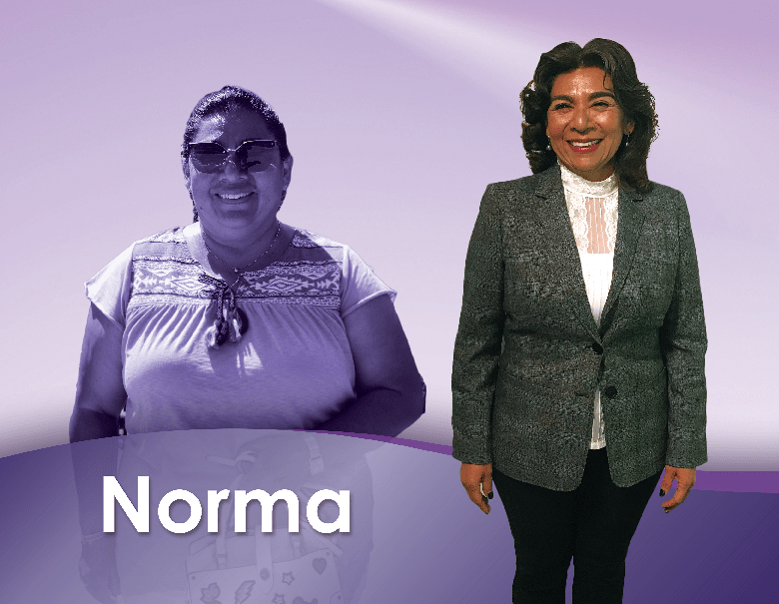 References:
Jakobsen, G.S., Småstuen, M.C., Sandbu, R., Nordstrand, N., Hofsø, D., Lindberg, M., Hertel, J.K. and Hjelmesæth, J., 2018. Association of bariatric surgery vs medical obesity treatment with long-term medical complications and obesity-related comorbidities. Jama, 319(3), pp.291-301